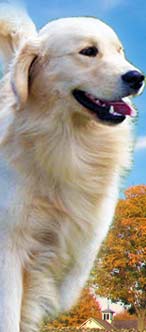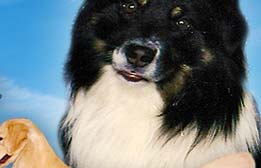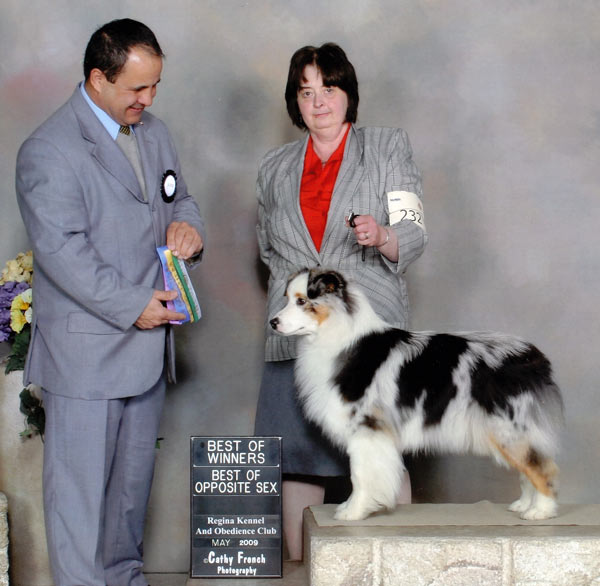 Our current doggy comedian is Ch. Crusinís Next Top Model (Sparkle) is a lovely blue merle female that keeps our lives happy with her Aussie antics of walking in a C shape and leaping over dogs that are running at full speed. She refuses to retrieve anything but will chase the goldens that do and try to herd them away. Sparkle always follows the object to its landing place but refused to pick it up as if to say (Iím a herding dog not a retriever). Sparkle finished her championship with great wins over Specials.

She will be shown in Rally this spring and may appear in an agility trial or in an ASCA show. We plan to breed her in the spring of 2011 as we need to have more that one Aussie in the yard to keep the goldens in line. Also our son now has a place of his own and wants another dog. We look forward to a litter with some color as the goldens donít have the same variety in their looks.

SPARKLE new title ~ Rally Novice Title in March 2011!! This was just vefore getting busy in teh whelping box! Her litter sired by CH. Shawndals Got Nothin' To Lose was born July 8 th 2011. Kavon's Ring Of Fire has 9 Championship points. This red merle boy is very handsome!

FLASH ~ Sparkle was leased to her breeder Carol Allison and had a litter May 12 th, 2012 sired by CH. Kiji U Got Some Splainin To Do. Ebony's Cruisin's Ebony and Ivory won Best Non-regular Puppy at the ASCA show in October 2012. Blaze now has 9 Champonship points. WAY TO GO SPARKLE KIDS!